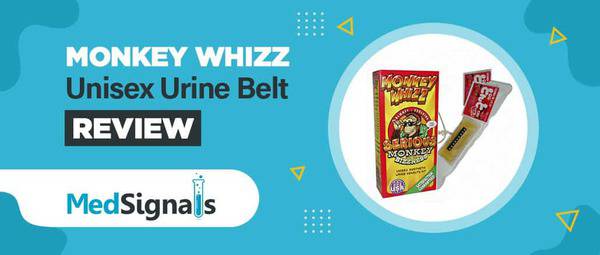 With the rise of synthetic urine products, passing drug tests is now easier than ever before. All you need to do is to heat it up, discreetly fill the cup and wait for negative drug test result.
Unfortunately, swapping your real urine for a synthetic one
isn't always easy
.The labs are becoming aware of different ways people use to cheat urine test, and will try to
supervise urinalysis
.
During supervised urine collection, lab technician will indirectly observe you producing the sample. That means you might be caught taking out your fake piss bottle. But don't worry, in this Monkey Whizz review you'll find a solution for that.
What Is Monkey Whizz?
Most people in stoner communities have heard about Monkey Whizz synthetic urine belt, which helped many pass their drug test. But along the popularity of Monkey Whizz goes a dose of confusion regarding its lineup.
Monkey Flask is what people often call "Monkey Whizz synthetic urine". It's a bottle of premixed fake piss, which contains

uric acid, urea, creatine

, has 

correct pH range

 and even smells like human urine.
Monkey Urine is a powder option of said synthetic pee, which has longer shelf life, but needs to be mixed before use.
Monkey Whizz is a urinator kit consisting of pouch filled with fake pee, secured by elastic belt, which is easy to hide under your clothing.
The company behind Serious Monkey Bizzness brand products is armed with 15 years of experience helping people beat drug testing process. A package of Monkey Whizz contains:
A 3.5oz bag of pre-mixed Monkey Flask

synthetic urine

An easy to read

temperature strip

to monitor heating process
Two self-adhering

heat pads

to maintain the right temperature
A cotton 

elastic belt

, which is adjustable and fits all sizes up to 54″ in the waist
A set of

instructions

you'll need to follow rigorously
Overheating your sample is nearly impossible if you use included heating pads, as they're designed to reach target temperature of 98-100°F, which is the average temperature for human urine, and keep the pouch warm at 91-94°F for up to eight hours.
Synthetic urine from Serious Monkey Business has all the necessary ingredients to mimic human pee. Besides containing uric acid and creatinine, the formula also features specific gravity needed to pass a urine drug test1. On top of that, it forms foam just like the real thing.
How To Use Monkey Whizz Urine Belt
To correctly use Monkey Whizz kit and pass your drug test, you should adhere to instructions provided with the product. Here's a brief summary:
On the day of your test, approximately

one hour before

, activate one heat pad and place it between the belt and urine bag. Strap pee bag around your waist with the temperature strip touching your skin for better control.

Heat pads need

about 15 minutes

to bring the sample to the right temperature, so

check the temperature strip

from time to time. The combination of your

body heat

and the heating pad should keep the urine within a good average temperature range.

Pay special attention to the

release tube

when strapping synthetic urine belt. Monkey Whizz is a gravity-operated device, and the release tube should always point downwards. If you feel like the release tube is too long, you can cut it shorter.

To dispense your sample, simply

open two clips

locking the release tube and let gravity do its work. Once you've filled the cup, tuck the pipe back in your underwear, submit the sample and wait for drug test results.
Does Monkey Whizz Work For Lab Tests?
Most testing facilities check for temperature, chemical makeup and physical properties of urine to confirm the validity of the submitted sample. Monkey Whizz has all the essential components to pass as a real thing.
However,
human factor
is also present in the equation. For instance, keeping the device warm at body temperature depends on user's ability to
follow instructions
included in the box.
Not a single product on the market can provide 100% chance of success, but Monkey Whizz synthetic urine comes pretty close when used correctly. Still, it has some design flaws we should mention.
How Can Monkey Whizz Fail?
According to a number of Monkey Whizz reviews on Reddit, it isn't the most reliable delivery system on the market2. The double tap design of the release line seems more complicated compared to other urination belts. It's not impossible to use, but according to some reviews, it's not completely fail-safe.
Other users didn't like the case that refills are not possible. And though we are overall happy with this product, we feel obligated to review some alternative brands here:
For guys, Serious Monkey Business also makes Monkey Dong – a prosthetic penis attached to

refillable

urine pouch. It comes in six different shades to better match your skin tone, making Monkey Dong a perfect urine device for observed sample collection.

Clear Choice Detox name comes to mind when people look for a way to beat drug test. The company is best known for Sub Solution – premium synthetic urine kit that can pass advanced tests like Labcorp. For this review, we've tested their Incognito Belt and it didn't disappoint.
Where To Buy Monkey Whizz Near Me?
Monkey Whizz is not sold on Amazon and eBay officially. If you find it on a discount website, it's probably counterfeit or expired specimen. The product should only be obtained directly from the manufacturer on BuyFakeUrine.com to make sure it'll work for drug test.
If you buy Monkey Whizz from the

official website

, you can use the promo code below for additional discount.
FAQ
We think we've covered the product in great detail in this Monkey Whizz review, but here are some of the questions commonly asked on the Internet:
Can You Microwave Monkey Whizz?
The manufacturer's recommendations are against microwaving Monkey Whizz, as it can damage the bag and fake urine, so make sure to use only bundled heat pads. You can order additional ones from BuyFakeUrine.com.
Is There A Synthetic Urine Belt For Female?
Monkey Whizz urination device is unisex and can be used by both men and women. In fact, it works particularly well for imitating urination while sitting, when release line is ran down between butt cheeks.
Does Monkey Whizz Synthetic Urine Expire?
Synthetic urine included with this product doesn't contain biocide, so it has a shelf life of one year, as long as it doesn't come in contact with air. After 12-18 months, some properties like color or smell will start to degrade, so make sure to avoid expired products, as they won't help you pass a drug test.
Can Monkey Whizz Urine Be Frozen?
You shouldn't freeze or chill this artificial urine. Cooling below 37°F can alter its chemical composition, making it detectable by labs. It's highly recommended that you always store Monkey Whizz kit at room temperature, and only heat it up before use.
Does This Urine Kit Contain Bacteria?
For added authenticity, this fake urine grows bacteria, but only when exposed to air, just like real human pee. The ability to grow bacteria indicates that the product contains no biocide, making it undetectable by labs.
Conclusion
In summary, Monkey Whizz is undoubtedly worth to have in your desk drawer for emergencies. Synthetic urine included with the kit contains all the necessary ingredients like uric acid and will certainly help you pass a drug test.
And despite its minor downsides, this urine belt is a solid product, undetectable and easy to use. We suggest you give it a try; with some experience, it can be a valuable tool for beating drug tests.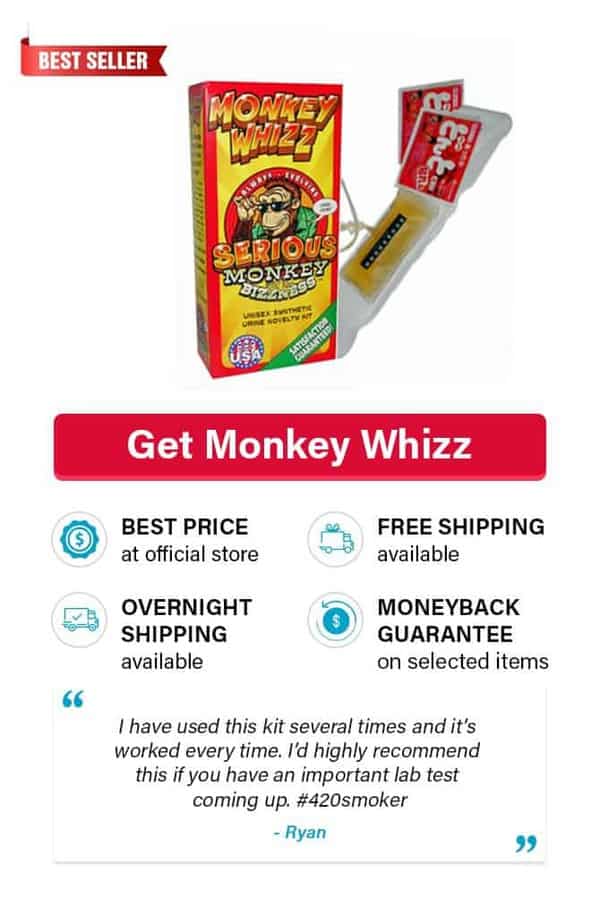 More Reading