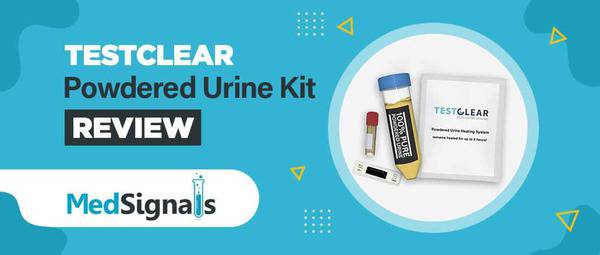 When there's not enough time to properly detox before drug testing, many people employ a different tactic of swapping their real urine sample with a synthetic option. However, testing companies can sniff out low quality synthetic urine kits, causing you to fail a drug test either way. Wouldn't it be nice if you could submit a real human urine instead?
Today, it's possible, thanks to a product we'll cover in this TestClear powdered urine review. Keep reading to learn how this kit works and whether it will pass a urine drug test.
What Is Powdered Urine Kit?
If you're tried to pass a urine drug test before, you must've heard about Test Clear, a company that sells various detox options for supervised collection. Well, they also offer a powdered urine kit, which they actually recommend for unobserved testing. Let's delve into further details.
Package Contents
Inside the packaging, you'll find:
A transport vial of

real powdered urine

;
A sample container with

temperature strip;

Two air-activated

heater pads;

A set of

instructions

.
Optionally (though it's recommended), you can add precise digital thermometer and extra water vials to your order.
Ingredients
Powdered urine contains all vital components found in real urine, including:
Urea,
Uric acid,
Creatinine,
Sodium chloride.
Best synthetic urine brands typically contain 11-13 additional components, while powdered urine features over 3,000 chemicals naturally found in human pee, and it's completely toxin-free to pass adulteration tests.
This is a unique selling point of TestClear urine, because it's the only real human pee product available on the market at the time of writing this review.
How To Use Powdered Urine Kit
The instructions are pretty straightforward. We'll provide a brief here for your convenience:
Pour the

urine powder

into a larger mixing vial.

Carefully fill the mixing vial with

room temperature water

almost to the top, the screw on the cap.

Gently shake the liquid until the powder is

dissolved completely

.

Open 

one heater

 package, peel the paper from adhesive tape, and stick it to the water vial.

Monitor the temperature using

temperature strip

or digital thermometer.

The rainbow indicator should show a temperature reading in

94-100 degree range

.

Check the

temperature strip

again before submitting your urine sample for drug testing.
Correct preparation in accordance with powdered urine kit instructions is crucial to successfully pass a urine drug test.
Does TestClear Powdered Urine Work?
As we've mentioned earlier, Test Clear is real clean urine, which was dehydrated for storage purposes. After mixing with water, it will have the same properties as freshly produced urine from a clean person, such as specific gravity and correct pH values. From a chemical standpoint, TestClear urine is indistinguishable from human pee.
Most reviews on Reddit and Better Business Bureau state positive experience; here are some examples.
This was my first time using a substitute sample for a test and I was super nervous about it, but it went off great. I would definitely use the product again if I needed to do so.
azovo, Reddit
I purchased the powdered urine kit and I am beyond pleased with the results. As long as you follow the directions the product is 100% guaranteed to work. I payed for express shipping and it literally arrived in less than 24 hours.
Leo K, BBB
Why Powdered Urine Failed For Some People?
Chemical composition of urine is important, but not the only factor that can affect your drug test result.
The

number one reason

why people fail is

incorrect temperature

of urine in the specimen cup. Freshly produced human urine sits somewhere

between 90°-100°F

and maintains its temperature for

about four minutes

.
If your urine sample isn't within the acceptable range, lab technicians may discard it as invalid and ask you to repeat the test. Alternatively, they might see it as a sign of tampering, which automatically fails the drug test.
Undissolved clumps are another common reason why your sample could be

ruled as fake

, which will result in failed drug test.
Make sure to dissolve the powder completely using warm water, gently agitating the liquid until there are no clumps. It always pays to read through the instruction sheet provided with the product.
Real Powdered Urine vs. Synthetic Option
Test Clear powdered urine kit boasts a 100% success rate when used correctly. But how does it measure up to Sub Solution, which is considered the "golden standard" of powdered synthetic urine?
Product form

Both products come in

powder form

, which requires you to dissolve it in water.

Product type

Sub-Solution is a synthetic urine kit, whereas TestClear features genuine dehydrated human urine. So, in regards of formula complexity,

TestClear is the winner

.

Tested substances

Still, laboratories only test for specific markers like

uric acid,

creatinine level

and

color

, present or valid in both kits. So

we'll call it a draw

.

Quality of the heaters

TestClear provides

heater pads

, and you can also microwave the specimen to the correct temperature range. Sub Solution, on the other hand, comes with a chemical

heat activator powder

, which will dissolve and bring urine to the proper temperature

within seconds

. It's neat and superior to the heater pads.

Price

Lastly, in terms of price, TestClear is

rather affordable

compared to best synthetic urine products (more info). We'd guess it's cheaper to

dehydrate the real thing

rather than manufacture fake urine. However, Sub Solution is

easier to prepare

, and that alone is

worth extra price

, especially if it will save you from a failed drug test and lost job.

Reviews

Both products boast

great track records

and overall

positive opinions

.
Where To Buy Powdered Urine Near Me
The company sells its products exclusively online through TestClear.com website, so if you find them listed on Amazon, that would be fakes. You can add extra heater pads, water vials and a digital thermometer at the moment of purchase. Use this coupon code for an additional discount: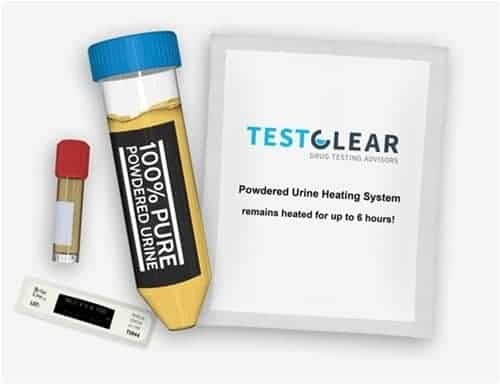 Frequently Asked Questions
How To Make Powdered Urine At Home?
Dehydrating liquids is rather cumbersome task, which requires expensive equipment and a lot of time. It's not a good idea to make DIY powdered urine, because you can't be sure in quality of the finished product, and it'll probably cost you more than just purchasing it.
How Long Does Powdered Urine Last?
Thanks to its powdered state, dehydrated urine has a long shelf life of up to two years, but you should avoid using expired product.
Can You Microwave Human Urine?
You can microwave rehydrated powdered urine to bring it to the correct temperature. However, you should never microwave a freshly produced urine once it's cooled down. Real urine gets cloudy as it cools over time, and reheating will only make it go bad faster.
Conclusion
Using real powdered pee is a sure way to pass urine drug tests. This kit is relatively easy to prepare after some practice, and you can get add-ons to shorten the learning curve if you're a first-time user. Alternatively, you can opt for Sub Solution high-tech synthetic urine powder, which will have similar total cost.