More than half of American employers still conduct pre and post-employment drug screening. Hence, the continuous growth of the detox product market. Of course, you'll find fake urine and cleansing capsules, but detox drinks are the most popular choice.
However, with many brands, formulations, and sizes of detoxification products, it's challenging to narrow down your options and find the right weed detox product that works and is safe to consume.
Based on numerous positive Detoxify Xxtra Clean reviews online, this liquid detox cleanse might be perfect for you. Let's evaluate what it has to offer to see if it's effective or not.
Our Detoxify XXtra Clean review
Detoxify is an industry leader offering easy-to-use THC detox drinks like the Xxtra Clean cleansing drink. Customers claim that it helps clean out the body of THC metabolites and other drug toxins or prescription drugs through different pathways.
It comes in a 20-oz bottle filled with a grape or tropical flavored liquid that can start reducing the toxin levels in your body within an hour after drinking.
Who is this product for?
Xxtra Clean detox drink's formulation is perfect for people who smoke marijuana and have moderate metabolite levels in their bodies. It is especially beneficial for those who undergo a marijuana drug test the next day.
Like with other Detoxify products, pregnant and breastfeeding women shouldn't consume this beverage, and those with underlying conditions should seek the advice of their physician first.
What's included?
You'll only find an XXtra Clean cleansing drink bottle and nothing else when you receive your order unless you've purchased it from TestClear.com. Test Clear is the official distributor of Detoxify products, and they provide a PreCleanse supplement packet free of charge.
When purchased from the Test Clear website, Detoxify's detox drinks and other body cleanses come with a 100% Satisfaction Guarantee.
How does Detoxify work?
Aptly named, this XXtra Clean detox drink comes with an extra-strength formula that will help rid your body of toxins in a short period without you feeling sluggish and dehydrated.
That is all thanks to the following ingredients:
American ginseng root extract
When undergoing detox, you'll usually have a bad mood and frequently feel stressed, especially if there's a looming drug test, and this herbal ingredient comes to the rescue.
That's because it's known to stimulate the body's resistance to multiple stressors.
The extract also contains compounds known as ginsenosides that help lower blood sugar levels.
Burdock root extract
The burdock extract is almost always included in the list of ingredients of most of Detoxify's drug test products. This is because it helps support the healthy functioning of three systems, enabling you to pass a piss test at work.
The first is the urinary system. It increases urine production as it's one of the most effective natural diuretics that have been used for years.
Another is the circulatory system. Thanks to its blood-purifying properties, the herb helps increase blood flow and remove toxins.
Lastly, it also supports the digestive system by aiding digestion. However, this may lead to increased bowel movement.
Milk thistle extract
The main target organ of this herbal ingredient is the liver, as it's rich in the antioxidant compound silymarin.
It helps repair the liver cells and can even help manage certain liver diseases, such as hepatitis C, fatty liver, and cirrhosis.
Those who always have indigestion will feel relief when they take XXtra Clean detox drink because of the milk thistle component.
Stinging nettle leaf extract
This XXtra Clean detox drink ingredient also has many properties that can help detoxify your body and pass a piss test.
It's rich in antioxidants that can help protect your liver from toxin and heavy metal damage and inflammation, allowing it to function at its 100% detoxification capacity.
Likewise, it has a diuretic effect so that you will urinate more frequently. That means you'll excrete waste products from your body, including THC metabolites, more quickly than usual, which is crucial for passing urine drug tests.
Uva ursi leaf extract
This herb is popular in traditional medicine since it has been used to help treat urinary tract infections because of its anti-microbial properties.
It also has diuretic properties that help flush out disease-causing microorganisms together with the high amount of urine output.
It can also help eliminate toxins from the body through frequent urination, making your pee clean for a drug test.
Blend of vitamins and minerals
With the intensive cleansing properties of the proprietary blend of herbal ingredients, the brand also ensures it won't affect the body's essential nutrient levels.
Thus, they formulated XXtra Clean detox drink with the right vitamins and minerals.
They will help replenish nutrients that the body might have excreted through urination and defecation during the detox process.
Pros:
Has an excellent detoxifying ability
Pleasant-tasting flavors
Uses safe and natural ingredients
Offers five hours of detoxification zone
Con:
May cause gastrointestinal issues
How to use Detoxify Xxtra Clean
Most Detoxify Xxtra Clean customer reviews agree that users must strictly follow product instructions to get the most out of this liquid herbal cleanse.
The simple steps you need to take when consuming this drink are:
As you start your detox program, ensure to shake the bottle well and drink the content of the entire bottle of XXtra Clean cleansing drink.
Wait for 15 minutes and refill your Extra Clean bottle with water, shake well, and chug the entire content.
You'll experience frequent urination, which means your body is beginning to experience the optimal cleansing effects of the Xxtra Clean detox drink.
Continue to drink several glasses of water as you go about your day for hydration and extended cleansing effects of the product.
Additional directions to pass drug tests
To ensure the maximal detox effects of this Detoxify XXtra Clean, you must also follow these tips:
If you have a pre-scheduled drug test appointment, it's best to refrain from using cannabis at least 48 hours before taking XXtra Clean detox drink.
You may partner the liquid detox with a PreCleanse six-capsule supplement packet which they consume 12 to 24 hours before their test.
Drink 20-ounce fluids every two hours until it's time to use the liquid detox.
Use Detoxify XXtra Clean from one to five hours before the scheduled test; three hours is ideal.
Stop eating high-fat or greasy food before the test.
Refrain from taking unnecessary medications, alcoholic beverages, and over-the-counter drugs.
Where to buy Detoxify XXtra Clean near me
We'd refrain from buying XXXtra Clean from large retailers and marketplaces like Amazon, since you may receive expired or counterfeit product. Besides, TestClear provides premium PreCleanse pills with every order of XXClean, which further helps in getting negative urine test results.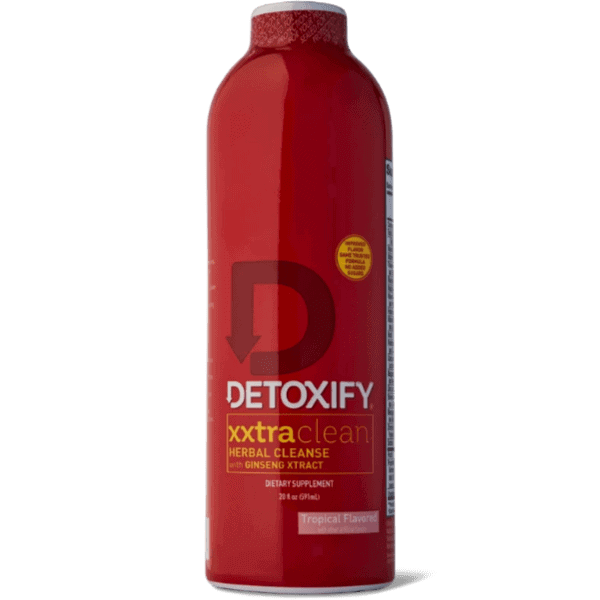 Does Detoxify Xxtra Clean work?
At this point, we agree with most Detoxify XXtra Clean customer reviews that this is one of the best same-day detox beverages.
With its robust and scientifically proven ingredients, it enhances the natural cleansing process of your body without you feeling unhealthy.
Of course, you also have to make sure that you eat light meals, consume water, and avoid unhealthy products while undergoing detox.
Lastly, as we always remind users, make sure you follow XXtra Clean detox instructions and reminders provided by the manufacturer to experience positive effects and pass your urine drug test.
Related articles:
Sources:
https://www.drugpolicyfacts.org/chapter/drugtesting_employment